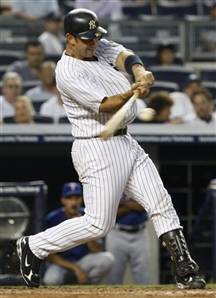 The Yankees have sort of been like mailmen this season: nothing has slowed them down. Not rain, nor sleet nor snow … and certainly not the Red Sox. They just keep delivering victory after victory.
But for Yankees fans, the injury to Jorge Posada might be cause for concern. For those of you who don't (gasp!) pay attention to what goes on in the Bronx, Posada had to leave Wednesday's game after taking a foul ball off his left ring finger. (Watch the video here)
The X-rays came back negative, but Posada, who termed the injury a "bruised joint", did not play in Thursday's loss to Texas.
According to the New York Times, manager Joe Girardi might give his catcher a week off once the rosters expand to 40 on Sept. 1, provided the Yankees feel comfortable about their AL East lead at the time. Jose Molina and Francisco Cervelli would share playing time.
But according to Posada, simply sitting for a week won't be enough to do the trick.
When he said he needed rest for the finger to heal, he meant that he needed extended rest for the swelling to subside and for the finger to be pain free.

"I don't think it's going to heal until the season is over," Posada said. "The joint is bruised. There's not much I can do."
Posada has received his fair share of criticism this season, primarily for his game-calling abilities. CC Sabathia has Molina as his personal catcher, and A.J. Burnett has clashed with Posada over his pitch calling.
But without him in the lineup, the Yankees suffer a severe drop in production. Witness the numbers:
Posada: .277/.353/.510
Molina: .250/.319/.321
Cervelli: .269/.284/.346
Andy Pettitte told the Times that the Yankees were too good "not to get this done," meaning, win a championship. But the road just got a little bit tougher.
******
If you Twitter, and you think Brian Cashman is a little bit gangsta, follow me at @Bharks.