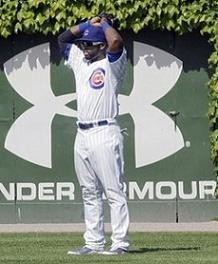 Sam Mellinger of the Kansas City Star published an entertaining (if clearly painful) story about the Royals in which he breaks down how much each player owes star pitcher Zack Greinke for costing him the $100,000 bonus he would've received for winning the AL Cy Young award.
Jose Guillen, for instance, owes the most ($25,000), because he is …
among the worst offenders on both offense and defense, plus he makes the most money so he can afford the biggest chunk of the check. His share may be even bigger, but Ball Star respects anybody who says, "When I suck I say I suck, and right now I suck."
This all got me to thinking, how much will Milton Bradley owe his Cubs teammates, club management, and fans by the time his three-year, $30 million contract finally runs its course following the 2011 season. (Sorry Cubs fans, you still have $21 million of it to pay after this season).
For their troubles, the Cubs have received a .259 batting average, a .391 on base, and .400 slugging percentage. He's played in 104 games, hit 10 home runs, scored 49 runs and driven in another 32. On defense, he's been slightly below average in the outfield, showing decent range but a sub-par arm.
Not terrible, not earth shattering.
But then comes the fun stuff: The constant running of the mouth. The needless courting of criticism. The clashes with management.
The 10 different kinds of crazy.
On Tuesday, Bradley held court on the "hatred" he receives from Cubs fans. Because you know, sometimes they boo.
"All I'm saying is I pray the game is nine innings, so I can go out there the least amount of time possible and go home," Bradley said.
Petulant comments, for sure, but not that big a deal by his standards. But then he compared a loss to the Nationals to an infamous and horrific incident involving a young black man and the Los Angeles police department.
Q: Obviously not the type of beginning you felt you were gonna have here on the homestand:

MB: "No, we got a Rodney King beatdown tonight."

After a few seconds of awkwardness, Bradley responded, "What's up, what do ya'll got next, something else?"
Who but Bradley would make such a classy comparison?
On second thought, Bradley doesn't owe the Cubs anything. They're getting exactly what they paid for.
******
If you Twitter, and aren't too terribly crazy, you can follow me at @Bharks.