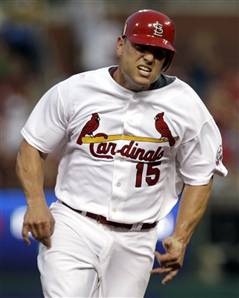 Matt Holliday has been energized since escaping the tomb that is Oakland's McAFee Coliseum and joining the St. Louis Cardinals.
It was great timing for him, as he will be a free agent at the end of the season, and he'll get plenty of extra exposure (as if he needs it) if the Cardinals make the playoffs, which looks likely. He'll be among the most sought-after free agents on the market this coming winter.
But here's the good news for Cardinals fans: Matt Holliday might not become a free agent at all.
In a radio interview with the Team 1380, Holliday was asked if it was possible he would sign an extension with the Cardinals before entering free agency.
His answer? "I think there's a chance of that."
So you're telling me there's a chance. Yeah!
He also expressed positive feelings about the Cardinals roster, playing in the same lineup as Albert Pujols, and the energy he gets playing in front of a packed house every night. You can listen to the interview here.
Hat tip to MLB trade rumors.
By the way, why is it that the Cardinals always seem to strike gold with their trade deadline acquisitions?
******
If you Twitter, and wonder what the worst lineup in MLB history looks like, feel free to follow me at @Bharks.