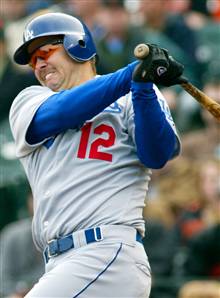 By the time his career came to a close, Jeff Kent was widely known as a cranky old cuss who played the game 1,000-mph and would chew the rear of anyone who didn't do the same.
No one was off limits, not even Barry Bonds. Which makes it hardly surprising that the two didn't get along, what with their enormous egos constantly bumping into each other in the clubhouse.
The two even got caught on camera fighting in the dugout once in 2002. Kent said at the time it wasn't a big deal, that they had scuffled before, and that that sort of thing happened sometimes on good teams with competitive players.
Fast forward to Monday, when Kent spoke at length about Bonds, steroids and other topics in the lead-up to his being installed on the Giants' "Wall of Fame." Pretty interesting stuff, from Andrew Baggarly of the San Jose Mercury-News:
"Tell me, does Barry have any close friends that are baseball players? I don't mean that as a crack against Barry. Do I have any friends that are baseball players? We were in our own world when we played. We were similar in the sense we understood each other. We just didn't hit it off for some reason. We talked motorcycles. Heck. We talked religion a couple times. But after work, we didn't get a sandwich."
Would love to have heard those talks on religion between the two non-friends, but there was more, including the revelation that they – in Kent's view anyway – pushed each other to be great.
"We got after it a few times. You saw it on TV one time. That was just one of many times we got after it. Barry was so good, he had no competitor. He needed somebody to push him in order to play better and care more. I played the role of the guy who stuck a nail in his shoe every once in awhile, get him to jump. Barry motivated himself but sometimes he just didn't care. And I had to help him."
Interesting comments for sure, and I can't help but wonder what one of Kent's "motivational" sessions would've gone like. Something like this, perhaps?
Kent: Hey Barry, you need to hustle out there.
Bonds: (bleep) you.
Kent: I'm not kidding. Stop slacking. You need to run out those fly balls. And I think you coulda run down that liner in the gap if you had tried harder.
Bonds: (bleep) you.
Kent: Alright buddy, it's go time!
******
If you Twitter, and can lift more than Izzy Mandelbaum, feel free to follow me at @Bharks.