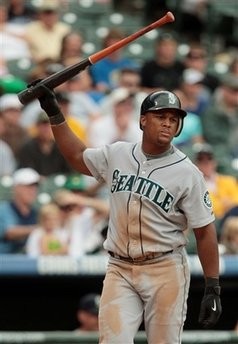 Adrian Beltre, apparently, is a gambling man.
The Mariners third baseman is trying to work his way back from the disabled list after being sidelined by a bad-hop grounder to his man region, resulting in a "severely contused testicle." OUCH.
Beltre took infield and batting practice today, and is eligible to return on Friday.
We've already discussed Beltre's aversion to wearing a cup, the main reason for the severity of his injury.
But interestingly, Beltre, an excellent defender, is still choosing comfort over safety, telling The News Tribune that he would wear a cup "against my will, maybe."
"I've tried before. It's uncomfortable. I hated it. If it's going to happen every 11 years of my career, I'll take my chances."
In the same story, Beltre says when he was injured, he thought "it exploded."
Nothing against Beltre. He's a tough customer, and a great defensive third basemen. But once things start "exploding," that would be enough for me.
******
If you Twitter, and you don't mind Roger Dorn's defense, feel free to follow me at @Bharks.