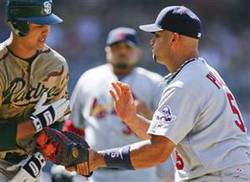 St. Louis Cardinals star Albert Pujols was cranky on Sunday, helping cause a benches-clearing incident when he got into a verbal sparring session with San Diego's Will Venable.
In the play in question, Venable hit a bouncer up the first base line. Pujols fielded the ball and tagged Venable, then all of holy heck broke loose.
"Last night he tried to run me over like he's playing freakin' football. A play like that you don't try to run people over," Pujols said. "Next time, if I would have known, I probably hit him in the face with the glove and tag him out there. He threw an elbow. He was out by a lot. It wasn't necessary, even to avoid a tag. Last night he jammed my wrist a little bit, and then tonight he tried to throw an elbow. That's pretty stupid."
Sounds like Venables was auditioning for a role with the Charlestown Chiefs doesn't it? Yeah, not so much.
Go ahead and watch the video of the play here.
Underwhelmed? So was Venable. It "was a whole lot of nothing," he said.
He then went on to say: "Skip told me to start a fight with Albert. He was hoping we'd both get tossed, since it would take 10 of me to put together one of Albert's seasons."
OK I made that up. But I could see it happening, especially when you consider Pujol's worth to the Cardinals. (check out the handy chart, courtesy of Umpbump)
So be cool Albert. Don't worry about the Will Venables of the world. But if you just can't take it anymore, talk to the Hanson brothers. They'll take care of it for you.
******
If you Twitter, and you enjoy hockey brawls, feel free to follow me at @Bharks.