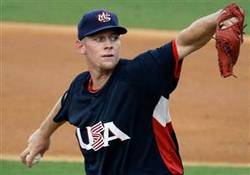 In the wake of Stephen Strasburg snagging a record $15 million contract from the Washington Nationals, there has been a lot of talk lately of what is wrong with the draft, and how it should be fixed.
From Bud Selig's threats of seeking a hard slotting system, to the Rays being accused of not even trying to sign their first-round pick, the post-Strasburg drama has been a bit of a mess.
One particularly interesting idea, however, comes from Dave Cameron over at Fangraphs.
His plan? Abolish the draft completely.
Instead of including international players in the draft, as Selig would like to do, Cameron would make everyone a free agent. On the surface, that sounds like insanity (how would the Royals ever beat out the Yankees for a star player?), but in Cameron's proposal, money from revenue sharing (roughly $200 million this season) would be allocated for amateur signings. The money would be divvied up on a graduated scale based on where the teams placed in the standings.
For example, the top five teams would only be allowed to spend $2 million each on amateurs, while the bottom five would be given $12 million apiece.
The top tier teams who have been winning recently would receive small sums of money that would essentially take them out of the running for the premium talents. Given that the teams that finished in the bottom half would likely be willing to bid ~60-70% of their budgets on the top guys available, the Strasburgs of the world would probably command bonuses in the $7 or $8 million range, which the winning teams would not be able to match.
Pretty interesting idea. Give each team a budget, with the bad teams having more money to spend than the good teams. In turn, you hold down the bonus money given to unproven amateurs, and you create and even playing field for high school, college and foreign kids.
Just might be crazy enough to work.
******
If you Twitter, and feel like burning your draft card, you can follow me at @Bharks.