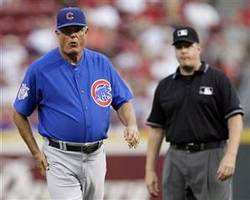 First it was the war on drugs. Then the war on terror. Now? Jaywalking, of course.
Lou Piniella was the latest to get nabbed, getting off with only a warning after being caught committing the unthinkable in downtown San Diego on Tuesday.
Sweet Lou was talking on his cell phone (presumably calling Closers-R-Us), and looking for a place to get his hair cut when he crossed against a red light, attracting the attention of an eagle-eyed motorcycle cop.
Piniella says he didn't get any special treatment in avoiding a ticket, claiming that the officer didn't recognize him. This seems unlikely, given his burgeoning rap career, but I digress.
Piniella is only the latest to run afoul of the law. Just last week, White Sox GM Kenny Williams was busted in Seattle, receiving a $56 ticket for his transgressions.
Last summer in the same city, then-Red Sox slugger Manny Ramirez was chewed out by a cop for jaywalking, to the point where he was threatened with arrest.
(The best part of that incident is that the officer, not recognizing Ramirez, asked him if he had attended the game. Attended? Well, I guess that all depends on your definition of the word.)
It's about time baseball people stopped acting as if they are above the law. This isn't Italy, where the police will applaud and offer you a glass of wine if you manage to cross the street without being run over by a Vespa. Nor is it India, where … well, just watch this video and be amazed.
No, this is America, and we're just not going to take it anymore. Anyone have George Mitchell's number? Wonder what he's up to.
******
If you Twitter, and are a law-abiding citizen, you can follow me at @Bharks.