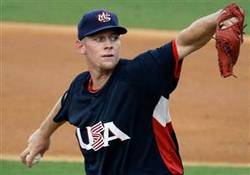 Not sure how many people believed it would happen, but Stephen Strasburg has indeed agreed to sign with the Nationals.
While you're contemplating how good he will be, here is a look at the numbers …
$15.1 million: The amount (not including incentives) the Nationals will pay Strasburg in his four-year contract. That's about $5 million more than the previous record, as Mark Prior received $10.5 million in 2001.
11:58:43 p.m.: The time when the sides agreed to the deal, according to Nationals president Stan Kasten. The deadline was 12:01 a.m.
195: Number of strikeouts Strasburg compiled last season at San Diego State. They came in 109 innings, with a 1.32 ERA.
102: The number, in miles-per-hour, that Strasburg can throw his fastball. Also the number of losses the Nationals suffered in 2008.
103: The number of losses the Nats are on pace to compile in 2009. Can they get him in uniform fast enough?
2010: The year Bryce "The Chosen One" Harper goes No. 1 in the draft. Wondering if the Nats can afford both of these guys?
******
If you Twitter, and you can hit 102 mph on the radar gun, feel free to follow me at @Bharks.