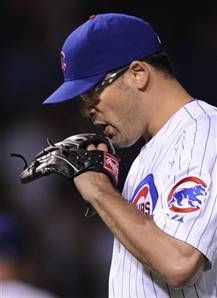 Think the Cubs miss Kerry Wood?
Lou Piniella, having finally grown tired of the 9th-inning adventure that is Kevin Gregg, demoted his baffled reliever from the closer's role, putting wild-and-crazy Carlos Marmol in that spot instead.
The move comes one day after Gregg blew his sixth save of the season (in 29 tries), this time against the Padres. Says Piniella, via AP:
"We needed to try a different approach. We have been patient, if you want to use that word. But we've lost some tough, tough ball games."
The new approach, apparently, will be to let Marmol put a lot of runners on base, then hope that he wriggles out of jams.
Marmol, who has saved a whopping 50 percent of his eight save opportunities, has walked 52 batters in 56 1/3 innings this season. He has also hit 11 batters (that leads the league), and allowed 31 hits, for a WHIP of 1.473.
Piniella also considered using Angel Guzman or John Grabow in that role. Grabow has allowed only two hits as a Cub, but in the tiny sample size of 5 2/3 innings. Guzman has a 2.42 ERA, but has given up six home runs.
There is no perfect answer for Piniella and the Cubs, and in truth, the way the Cardinals are playing, it might not matter anyway.
If you Twitter, and you can save a game once in awhile, feel free to follow me at @Bharks.