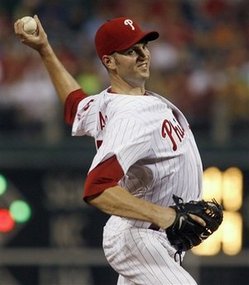 With the Phillies facing a decision on who to bump from their rotation once Pedro Martinez is deemed ready, J.A. Happ submitted his case for remaining a starter with the best performance of his career Wednesday. He tossed a complete-game shutout against the Rockies, striking out a career-high 10 while allowing just four hits and two walks, and the 127-pitch effort makes him 8-2 with a 2.74 ERA.
Happ's outing ranks among the top dozen starts in the NL this season and easily overshadowed the six innings of three-run ball that Martinez threw at Double-A in his third and perhaps final rehab appearance. Jamie Moyer is the obvious choice to be replaced by Martinez thanks to his 5.55 ERA, but the 46-year-old is signed for next season at $6.5 million and the Phillies don't see him as a bullpen option.
That leaves poor Happ as the odd man out, because Cole Hamels, Cliff Lee, and Joe Blanton obviously aren't going anywhere. There's no question that Happ is a better option than Moyer or Martinez down the stretch, but the Phillies may want to prep him for a postseason bullpen role and a six-game cushion in the division gives them a chance to do that without really risking their odds of getting there.
While the Phillies make a choice between experience and money or performance and youth, here are some other notes from around baseball …

* Believe it or not the Mets suffered another big injury Wednesday, as Jon Niese exited his start in the second inning with what turned out to be a complete tear of his right hamstring. He was just starting to look like he was in the majors to stay, but the 22-year-old lefty will miss the remainder of the season. Nelson Figueroa tossed 4.1 shutout innings in relief of Niese and could take his rotation spot.
Bobby Parnell is another option, as Jerry Manuel admitted that he's considered a move back to the starting role that he filled in the minors and seemingly took the first step toward stretching out his arm with a three-inning relief appearance. His upside as a starter is fairly limited, because Parnell had a 4.67 ERA and 188/104 K/BB ratio in 45 starts between Double-A and Triple-A before moving to the pen.
* Already on the disabled list with an injured shoulder, Erik Bedard is headed for an MRI exam after complaining of soreness following a bullpen session Tuesday. Bedard is eligible to come off the shelf on August 10 and if healthy could still be traded by the Mariners, but even a minor setback would rule that out and end the impending free agent's time in Seattle after 30 starts and 11 wins in two years.
AL Quick Hits: Tim Wakefield (calf) felt strong enough to throw a bullpen session Wednesday, but there's no timetable yet for his return … Bobby Jenks was again unavailable Wednesday because of kidney stones … Jason Berken will remain in the rotation despite going 0-9 since winning his MLB debut … Boston inked Paul Byrd to a minor-league deal Wednesday and he could be a September rotation option … Acquired from the Cardinals last week to finish the Mark DeRosa deal, Jess Todd could claim a late-inning role in the Indians' bullpen … Cody Ransom began the season as Alex Rodriguez's fill-in, but was designated for assignment Wednesday after batting .190 … Brandon McCarthy (shoulder) is slated to begin a rehab stint Saturday at Triple-A … Francisco Liriano took his AL-high 11th loss Wednesday, allowing four runs before the bullpen imploded … David Ortiz was benched Wednesday versus lefty David Price, with Mike Lowell starting at DH.
NL Quick Hits: Scott Rolen went deep in his return to the lineup Wednesday after getting beaned Sunday … Roy Oswalt (back) threw from flat ground Wednesday and will try a mound session Friday … Clint Barmes was hitless Wednesday and is now 8-for-66 (.121) since the All-Star break … After starting 54 straight games since being called up, dizziness kept Andrew McCutchen out Wednesday … B.J. Ryan will try to find another minor-league deal after being released Wednesday by the Cubs … Chris Young is expected to avoid surgery on his injured shoulder, but won't pitch again this year … Wandy Rodriguez (hamstring) tossed a bullpen session Wednesday and noted afterward that he "felt great" … Chad Gaudin had his second straight poor outing Wednesday after looking like he was ready to be a fantasy asset … Micah Owings (shoulder) threw a simulated game Wednesday and could begin a rehab stint next week … Jimmy Rollins homered Wednesday for the third straight game.