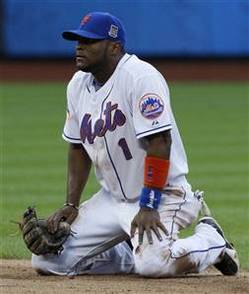 More bad news for the New York Mets: David Wright will be going on the DL after being attacked by an angry house cat while on his way to the ballpark on Tuesday.
OK so I made that up, but the way things are going, would you be surprised?
It wasn't Wright who was hurt on Tuesday, but Luis Castillo, who sprained his ankle while slipping on the dugout steps. You might assume that some clown (Omar Minaya?) dropped a banana peel for Castillo to stumble over, and you wouldn't be that far off. It was actually a glove left innocently on the steps that he was trying to avoid when he fell.
OK so losing Castillo isn't like losing Carlos Beltran. Or Carlos Delgado. Or Jose Reyes. (Want the whole list? Find it here. And beware, it's lengthy.) But he is a starter – and a pretty decent one at that – who was hitting .377 with a .473 OBP over the last month.
So what exactly did the Mets do to anger the baseball gods? Is it Bill Buckner's revenge? Is the new stadium cursed? Maybe it's a nasty bit of karma for those putrid shirts J.J. Putz was allowed to design.
Either way, this is getting ridiculous. And I think it's about time the ghosts of the game ease up on the Mets and their fans. But just in case they don't, the team might want to consider wrapping Johan Santana in bubble wrap.
******
On a side note, is it time to stop pitching to Albert Pujols when he comes to the plate with the bases loaded? After hitting a grand slam to beat the Mets on Tuesday, here's his line this season with the bases juiced: 7-for-9, 5 HRs, 24 RBIs. Intentionally walk him every time and he's 0-for-0 with 0 HRs and 9 RBIs. I mean this tongue in cheek. I realize Tuesday's blast was in extra innings. I understand there's no guarantee you get the next guy out. Just wanted to point out that Pujols is kinda sorta good. Newsflash, I know.
******
If you Twitter, and you have a lot of patience, you can follow me here.