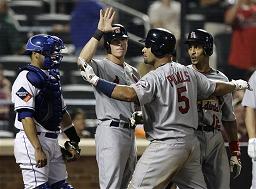 Cardinals 12, Mets 7: Albert's little slump appears to be over. Big shot in the 8th to bring the Cards closer, much bigger shot in the 10th — grand slam — to put the game out of reach. "I'm human. I'm not a machine," said Pujols after the game. Sorry dude, I ain't buyin' it. Great moments in Mets history: Luis Castillo sprained his ankle after slipping on the dugout steps in the seventh inning. Apparently he was trying to avoid stepping on someone's glove or something. I'm guessing it was Francoeur's, mostly because I don't like him and I want to believe it was his. Also because I don't like Francoeur, I'll note that he went 0-5, seeing a grand total of 12 pitches in those at bats.
Dodgers 17, Brewers 4: In a scene out of late-80s WCW, after the game, Prince Fielder ran through the underground tunnels to go put a hurt on Guillermo Mota in retaliation for a ninth-inning plunking. Fortunately for Mota's health and Fielder's wallet, he was stopped at the Dodgers' clubhouse door (though I'm guessing he's gonna get a fine anyway). No word on whether he had a folding chair with him. Kind of a bush league move on Fielder's part, though, wasn't it? I mean, everyone knows that if you're going to go after a guy, you don't do it in the clubhouse. You ambush him while he's doing a standup interview with Tony Schiavone.
Braves 9, Padres 2: Martin Prado homered and drove in three runs and Matt Diaz hit a two-run homer as the Braves broke out the whuppin' sticks in support of Javier Vazquez. Neither of these guys were the starters at their respective positions for most of the season. Prado certainly has been a marked improvement over Kelly Johnson and Diaz too, over Francoeur. Diaz did, however, perform a tribute to the departed Jeffy last night as, in addition to the homer, he hit into three double plays and struck out. Adam LaRoche was 4 for 4 and Garret Anderson was 3-5, adding to the hit parade. Adrian Gonzalez's consecutive games streak was ended at 314.
Athletics 6, Rangers 0: Someone should detain the guy who started for the A's last night and ask him what he has done with the real Gio Gonzalez. Whoever this impostor was, he lowered Gonzalez's ERA a full run with this 6.2 IP, 3 H, 0 ER performance. The pod people apparently got to Mark Ellis too, as he drove in three.
Orioles 8, Tigers 2: Welcome to the majors, Brian Matusz! The 2008 draftee gave up a run and six hits in five innings, walking three and striking out five. He had some nifty defensive help from Cesar Izturis too, as he dove to pluck a bases loaded grounder in the second to bail the kid out of a jam. Hit a homer too. Jarrod Washburn's debut — for the Tigers, not in the majors, because he's been there for a while — was not as nice (5.1 IP, 6 H, 6 ER).
Giants 8, Astros 1: Jonathan Sanchez struck out eight in seven shutout innings, winning his first road game of the season. Freddy Sanchez and Pablo Sandoval hit back-to-back homers in the sixth and Aaron Rowand drove in three runs in an unusually potent Giants offensive attack.
Cubs 6, Reds 3: Pirates' import Tom Gorzellany shuts down a Reds team that is on the fast track to oblivion. No one — and I mean no one — is playing as pathetically as this Reds team is right now.
Diamondbacks 6, Pirates 0: Yusmeiro Petit threw eight shutout innings and took a no-hitter into the eighth, when it was broken up by Ronny "Buzzkill" Cedeno.


White Sox 5, Angels 4: Scott Podsednik hit a two-out RBI single
in the bottom of the ninth as the Sox — fresh off of takin' it to the
Yankees over the weekend, beat the red-hot Angels. Not that killing giants like that bodes well or anything.
Oh, and Bobby Jenks was unavailable for the game because he had to be
treated for a kidney stone, which is the kind of thing I wouldn't wish
on my worst enemy.
Mariners 7, Royals 6: Ichiro started the game with a homer and
ended it with a pretty spiffy sliding catch in right. In between he
walked and got another hit, scoring each time. He's pretty good, ya
know?
Rays 4, Red Sox 2: Walkoff bomb from Evan Longoria. An all or
nothing kind of night for him, as he hit another homer earlier, and
struck out in his four other times at the plate. Game story: "It was
the Rays' longest game of the season and tied for the Red Sox's longest
game in innings." Which means that the Red Sox played a game longer
than 4:57 in less than 13 innings at some point this season. AL East
baseball: it's fantastic!
Yankees 5, Blue Jays 3: The Sox loss and the Yankees' win gives
the bombers some breathing room. A day after I say that you don't see
many complete game losses anymore, Roy Halladay pitched a complete
game, but lost, giving up five runs on ten hits.
Rockies 8, Phillies 3: Thirty-two of the Rockies' 59 wins have
come on the road this season. They didn't used to do that sort of
thing. Game story: "Moyer extended his 10-start pattern of alternating
good starts and bad ones, with a subpar effort." Maybe Manuel should
skip every other Moyer start. Or does it not work that way?
Nationals 6, Marlins 4: The Nats rallied for six in the eighth
inning, capped off with an Adam Dunn homer, to beat the fish. Dunn
pulled a Longoria in this one, striking out three times before
connecting. Wait, Dunn's been doing that for years, so I guess Longoria
pulled a Dunn.
Twins 10, Indians 1: "Doubles are nice," Minnesota manager Ron
Gardenhire said after the game. The Twins hit seven on them — three
from Joe Mauer — as the pound the Tribe. Scott Baker was on (7 IP, 3
H, 0 ER). David Huff was not (4.2 IP, 11 H, 7 ER). Makes me wish that I
hadn't already burned my "minute and a Huff" joke a couple of weeks
ago.