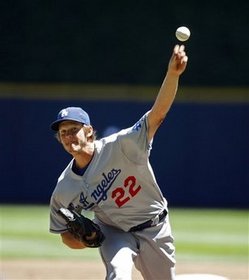 – After struggling through 4 2/3 innings against the Royals in his debut last week, Chris Tillman will get the Tigers in his second major league start tonight. It's not as much of a step up as it seems, though, as the Tigers have scored more than five runs just twice in 16 games since the All-Star break. The bigger problem is that he'll be going head-to-head against Justin Verlander, who leads the AL with 172 strikeouts and is 4-0 with a 1.85 ERA lifetime against Baltimore.
– With Jason Marquis stumbling in the seventh inning of his start Sunday, Matt Cain can become the NL's first 13-game winner. He'd seem to have a pretty easy assignment against an Astros lineup that badly misses Lance Berkman. The team has scored three runs or fewer in eight of its last nine games. Houston's starter tonight, Mike Hampton, hasn't turned in a quality start in his last four tries.
Game of the Night
Milwaukee vs. L.A. Dodgers – Clayton Kershaw will attempt to continue his remarkable run against a fading Brewers team. Kershaw has allowed a total of six runs — five earned — in his last nine starts. He's 5-0 during that span and has lowered his ERA from 4.50 to 2.76. The Brewers will counter with a lefty of their own, Manny Parra. Since returning from Triple-A, Parra has gone 2-0 with a 3.75 ERA in four starts. However, only the first two were strong outings and he's given up nine runs and eight walks over 11 innings his last two times out. Making his assignment tougher is that the Dodgers, even with Manny Ramirez sidelined for 50 games, have an OPS 66 points higher against left-handers than versus righties this season.