Last weekend in this space, I had a pretty hard time advocating the Reds going after 34-year-old oft-injured third baseman Scott Rolen. Could you blame me?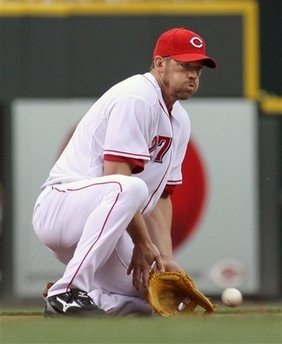 Games played:
2005- 56
2006 – 142
2007- 112
2008 – 115
That's an average of 106 games played.
To his credit, Rolen has put together a nice comeback season, hitting
.314/.366/.468 with eight homers and 43 RBI. It was enough for Walt
Jocketty, his former general manager in St. Louis, to bring him to
Cincinnati in exchange for third baseman Edwin Encarnacion along with
prospects Josh Roenicke and Zach Stewart.

The fact that Rolen is already out of action on Monday after getting
hit by a pitch on Sunday is purely coincidental to my original point.
Worse yet, Walt Jocketty sold low on Encarnacion, a 26-year-old slugger
who is batting .205/.324/.361 with five homers an 16 RBI in an injury
plagued season. Teams like Cincinnati, by all accounts out of the race,
should be buying low on talents like Encarnacion, not buying high on
deteriorating players like Rolen.
Just sayin, Cincinnati.