– Melky Cabrera became the 15th player in Yankees history to hit for the cycle in an 8-5 win over the White Sox this afternoon. He's the first Yankee to accomplish the feat since Tony Fernandez in 1995.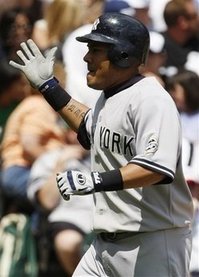 – Just this morning, I wrote that Victor Martinez had a .198 batting average since June 4, but he broke out in a big way in his catching debut with the Red Sox, going 5-for-6 with four RBI in an 18-10 win over the Orioles. Go figure.
– James Shields tossed seven hitless innings, but lost the no-hit bid and the game by giving up two runs in the eighth, as part of a 4-1 loss to the Royals this afternoon.
– The Reds got quite a scare this afternoon when Scott Rolen was
plunked on the helmet by Colorado pitcher Jason Marquis. But no
worries, it looks like he's just fine.
– A few weeks ago in this space I included Astros rookie Bud Norris in my players to watch for the second half. Don't mean to say I told you so, but…uh, yeah. I kinda do.
– In additon to 2008 first-round draft pick Brian Matusz likely making his major league debut for the Orioles on Tuesday night, Neftali Feliz, one of the top pitching prospects in the game, could join the Rangers roster as early as Sunday.
– And Matt Holliday, well…he finally took his first 0-fer this afternoon. Dude's human.