"It was just one of those days
where everything worked. I got my pitches, I was able to hit them, and
I was able to hit them out."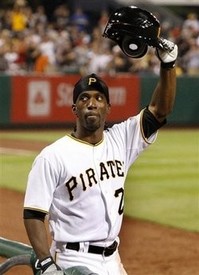 – Rookie Andrew McCutchen, after becoming the first Pirates player to hit three home runs in a game
since Aramis Ramirez in 2001. He finished 4-for-5 with six RBI on the
night, and through his first 215 at-bats in the majors, the 22-year-old
is batting .293/.349/.488 with six homers, five triples, 31 RBI and
nine stolen bases.
"Am I going to miss San Diego?
Absolutely. I knew this day would come — being traded out — with the
direction the team was going. I'm glad it's here sooner than later, and
we can get on and start playing baseball and worry about the one thing
on our mind, which is winning."
– Jake Peavy was introduced to the media
as the newest member of the Chicago White Sox on Saturday. Currently
out of action with an ankle injury, Peavy will begin throwing off a
mound again this week. He doesn't rule out a late-August return.
"Sometimes you have a No. 3 (hitter)
and need a No. 4 Other times you have a No. 4 and need a No. 3. If you
need a fourth-place hitter and you get Matt Holliday, your lineup
instantly becomes so deep because everyone gets pushed into a spot
that's more fair. It just happens to be him."
– Filling out the lineup card has gotten a bit easier for manager Tony LaRussa, as Matt Holliday has hits in each of his first nine games
since joining the Cardinals. He added three more hits, including two
solo homers, in a 3-1 win over the Astros on Saturday night. His .606
batting average (20-for-33) as a Cardinal is utterly ridiculous.
"Most of all, thanks to you, the
fans. This is not just my day. This is you, the fans' day. … You have
shouted out, 'Run, Rickey. Run.' I need your help. Say it one more
time."
– And they happily obliged. Newly-minted Hall of Famer Rickey Henderson had his No. 24 retired by the Athletics on Saturday afternoon.
"Depends on who's driving. We might
see a spike in beer sales on some of these weekends from a Southern
Indiana group of folks when my buddies come over."
– Scott Rolen, who was acquired from the Blue Jays on Friday, is thrilled to be at least a little bit closer to home.