We've already heard about who was traded, what could have been, and who the winners and losers are, but here's my take on just some of the fallout from around the league: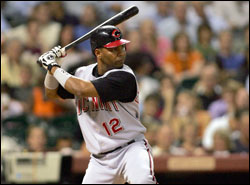 – Edwin Encarnacion going to the Blue Jays might be the best thing that possibly could have happened to him. As I wrote last weekend,
I thought the trade was a brutal idea from the Reds' perspective, and I
hold true to that, but Encarnacion benefits big-time with this trade,
moving over to an organization where he has a real chance to flourish.
He'll never be a great play with the glove, and a move to the outfield
or first base would serve him well in the future, but don't be
surprised to see a 30-HR, 100 RBI season in short order.
– With Nick Johnson headed to Florida, Adam Dunn figures to see most
of his time at first base now (at least he can hide a little bit over
there), with Elijah Dukes being called up for another opportunity in
the outfield. One interesting tidbit, don't discount Josh Willingham at
first base. He played the eighth and ninth innings of Friday's game
there.
– Before Kenny Williams shocked the baseball world with the Jake
Peavy trade, Victor Martinez was the big fish of the day. He joins a
crowded C/1B/3B/DH scenario in Boston with Jason Varitek, Mike Lowell,
Kevin Youkilis, David Ortiz and the newly-acquired Casey Kotchman all
itching for at-bats. It's a stroke of genius by Theo Epstein and an
embarassment of riches for manager Terry Francona. This way he can keep
Lowell and Tek' fresh for a run at the post-season, while playing
matchups as he sees fit without losing much offensively. That said, for
the fantasy baseball set, it's a mess. You hate the Red Sox right now.
– With Jeff Clement tearing up minor league pitching — he slugged
two homers in his debut for Triple-A Indianapolis on Friday night —
this might be Steve Pearce's last chance to make it in the Pirates
organization. Now 26-years-old, the former top-prospect will get the
majority of starts at first base with Adam LaRoche out of the way.
Pearce has 89 homers in 517 career minor league games, but a
.256/.310/.411 line through 219 at-bats in the majors have critics
deeming him your classic AAAA hitter. Pirates' fans hope he's more like
the player they saw last September (four homers in 51 at-bats). We'll
see.
– Now that Orlando Cabrera was shipped off to Minnesota, 2005
first-round pick Cliff Pennington gets the call from Triple-A
Sacramento. Just to show you how far the 2004 Rookie of the Year Bobby
Crosby has fallen, Athletics general manager Billy Beane said that
Pennington will get "the benefit of a long trial" at the position. But
with a .242 batting average in 99 at-bats in the majors and a
.264/.345/.367 line at Sacramento this season, the jury is out on
Pennington, too.
– Calling himself a closer by "default," Jim Johnson will take over
ninth-inning duties in Baltimore now that George Sherrill calls
Mannywood home. He's probably right. The 3.25 ERA over his first two
seasons looks great — as does the 55.6 career groundball rate. But
without the benefit of a pure strikeout pitch, Johnson has averaged
just 5.46 K/9 over his first 98 games in the majors. Likewise, his 3.61
BB/9 doesn't breed much confidence. Expect some sweaty palms in
Baltimore.
– One more note on the Pirates, since they've had so much turnover
recently. Delwyn Young, once heralded as a top prospect in the Dodgers
organization, is very quietly batting .310/.375/.420 with four home
runs and 22 RBI in 174 at-bats with the Pirates this season. Without a
suitable replacement for Freddy Sanchez in the Pittsburgh pipeline, the
27-year-old will get a good look-see at second base. That said, serious
questions about his defense remain. And with a .410 BABIP, color me
skeptical.