Tigers acquire RHP Jarrod Washburn from the Mariners in exchange for LHP Luke French and LHP Mauricio Robles.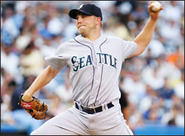 Can't blame the Mariners for this one. Realize that they gave up a
35-year-old southpaw with a 4.02 career ERA and 43.6% career flyball
rate. He benefited greatly with the best outfield defense in the sport
this season (+14.1 UZR/150), putting up a 2.64 ERA, 1.07 WHIP and 79/33
K/BB ratio in 133 innings. A quick look at his FIP (3.75) and BABIP
(.249 as opposed to a .280 career average) tell you that he was getting
more than a bit lucky this season.
Still, he's a solid veteran who throws strikes and he should hold
down the back of the Tigers rotation. While I expect him to fall off a
bit, Comerica Park is pretty spacious too, and their outfield defense
isn't that bad either.
This isn't a great return for the Mariners, but the move made sense
considering Washburn was going to leave as a free agent, anyway.
Interestingly, French, who had a 3.38 ERA and 1.50 WHIP in seven games
(five starts) with the Tigers this season, has a 50% flyball rate in
the majors thus far, and a 39.7% flyball rate in parts of four seasons
in the minors. While he may have some trouble sticking as a starter in
the majors, he could have landed in a far worse situation. As for
Robles, he is just 20 years old, but boasts a 111/41 K/BB ratio in 91
1/3 innings pitched between Single-A West Michigan and High-A Lakeland
this season.