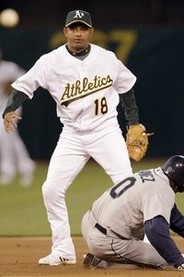 Even though our own Aaron Gleeman wasn't a huge fan of the idea,
the Twins have reportedly traded for shortstop Orlando Cabrera,
acquiring him from the Athletics in exchange for minor-league infielder
Tyler Ladendorf.

Cabrera got hot at the right time, batting .373/.400/.500 with two
homers, 16 RBI and nine stolen bases in July. He currently leads the
majors with 41 hits this month. He will be a free agent at the end of
the season.
The benefit is obvious for the Twins here. They upgrade from
shortstop options (Nick Punto, Brendan Harris) that have combined for a
.241/.303/.330 line this season.
Update: In a post to Twitter, LaVelle E. Neal III says the Twins are also getting cash in the deal.