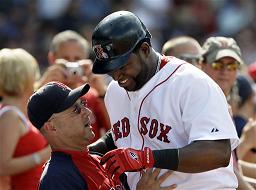 Red Sox 8, Athletics 5: Before the game Ortiz said this:
Today I was informed by a reporter that I was on the 2003 list of MLB players to test positive for performance-enhancing substances. This happened right before our game, and the news blindsided me. I said I had no comment because I wanted to get to the bottom of this.
The judges would have preferred the Costanza-esque "Was that wrong? Should I not have done that?" but they will accept the O.J.-esque "I'm going to search for the real killers" response as well. Either way, he wasn't so blindsided that it took him off his game, as his three run homer in the seventh put the Sox up for good.
Mets 7, Rockies 0; Rockies 4, Mets 2: Santana was fantastic in the first game (7 IP, 4 H, 0 ER 8K). Omir Santos caught the second game despite the fact that his wife gave birth earlier in the day. When my wife gave birth the only place I was allowed to go was to the room across the hallway where they kept the ice. Good for Omir for having his priorities in order. Kids are born every day. Twin-bills are rare.
Cubs 12, Astros 3: That's 30 runs in three games for the Cubbies. Kevin Hart got the win and then was traded to Pittsburgh as soon as it was over. I'm pretty sure that Pittsburgh has been involved in every trade that has been made for the past week. Query: if they have so much desirable talent, why they hell do they suck so bad?
Orioles 7, Royals 3: Brad Bergesen gave up one run on seven hits in seven innings and got the win, but not before being knocked out of the game when a liner off the bat of Billy Butler smacked him in the shin. "The pain was bad. I wanted to throw up," Bergesen said. Tonight, as he elevates and ices the leg, he'll be updating this seemingly dormant web page.
Brewers 7, Nats 3: The Brewers win back-to-back games for the first time in a month. Yovani Gallardo allowed five hits and three runs while striking out 11 and walking nary a Nat.
Padres 7, Reds 4: Remember in spring training when some folks were picking Cincy as their dark horse contender? Nah, me neither. The Reds have dropped six of seven the Padres this season, which is as close to pathetic as you can get. Game story: "Outfielder Wladimir Balentien, acquired Wednesday by the Reds from Seattle for right-hander Robert Manuel, arrived in Cincinnati early Thursday morning and was in uniform." Early morning? Must have taken the Red eye. Get it? RED eye! Because he's joining the REDS! Ha! Um, er. Yeah.


Rangers 7, Mariners 1: Newark, Ohio's own Derek Holland had a
shutout into the ninth, striking out ten Mariners and giving up only
two hits. It may have been better, though, if he had given up a run
earlier, because maybe then Ron Washington wouldn't have left the 22
year-old in for 118 pitches on a 90 degree night.
Braves 6, Marlins 3: Brian McCann with the three run dinger in
the 10th! (I can use exclamation points there, because he plays for my
favorite team; were it the Cubs or something, I would have used a
period or would have written some dependent clause set off by dashes —
like this — in order to tone it down a bit. But go Braves! Nice to
salvage one!!!
Giants 7, Phillies 2: Rodrigo Lopez gave up eight hits and seven
runs — only three earned — in four innings, mostly due to a Pedro
Feliz error. Feliz used to play for the Giants. According to the game
story, Ryan Garko was asked to provide information on Friday's starter
— Cliff Lee — to the Giants, because Lee and Garko used to play for
the Indians. Basically, no one can trust anyone in this series, and
death and betrayal lie around every corner.
Dodgers 5, Cardinals 3: Guess what: Todd Wellemeyer doesn't work
in relief either! To be fair, he didn't cause the 10th inning jam —
that was Dennys Reyes' doing — but he did come in and give up the
game-losing single, and I'm not sure why Tony La Russa decided that
runners on second and third in the 10th inning was the best spot in
which to launch Wellemeyer's bullpen career.
White Sox 3, Yankees 2: If you lived in outer space and just
came to Earth to visit on Thursdays, you might come away with the
impression that DeWayne Wise was actually good, what with the big catch
in Buehrle's perfecto last week and hit the walkoff RBI single last
night. Hmm, maybe I won't go back to outer space. Mars ain't the kind
of place to raise my kids. In fact it's cold as hell.