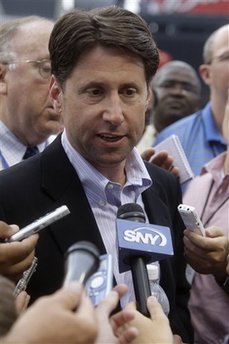 You knew it wouldn't take long for good ol' Wally Matthews of Newsday
(awful website, by the way) to chime in on the circus that surrounds
his favorite punching bag — the New York Mets organization. He asserts
that the only reason Omar Minaya still has a job is because Bernie
Madoff ripped the Wilpons off for an estimated $700 million, writing:
He'll hold on to this guy if it kills him, because having to pay another guy to do his job might kill him worse.

Along with all the other damage the
Madoff fiasco did to the Mets, add one more example: Omar Minaya. The
Mets can't win with him, can't afford to let him go.
But the most telling part of it all was this amazing moment of candor by Jeff Wilpon:
"He's this close to being out of baseball," Jeff Wilpon told me, holding his thumb and forefinger a half-inch apart.
It looks like the Wilpons are a dollar short on votes of confidence, too.