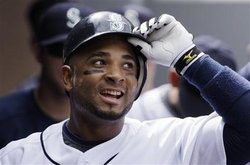 I sort of called this one on the old twitter feed a couple of days ago. At least I was hoping that the reason the Reds weren't calling up Chris Heisey was because they were getting ready to pick up an outfielder.
This actually looks like a Jim Bowden move for Cincinnati. Balentien isn't a five-tools guy, but he does have 30-homer power and a terrific arm. His career line is sitting at .209/.260/.359 in 401 at-bats, but he's going to a smaller ballpark now, which should help. He'll probably never hit for average because he swings and misses so often, but I wouldn't be surprised to see him turn into an adequate regular anyway. How he performs over the rest of this year will determine whether the Reds keep him in their plans for 2010. Heisey, Drew Stubbs and Todd Frazier could all factor into the outfield mix next year, so Balentien may have only a small window to establish himself.
The Mariners did pretty well here in getting Manuel, a reliever who broke through with a 1.25 ERA and a 103/18 K/BB ratio in 86 2/3 innings at three levels of the minors last season. The 26-year-old had a 2.70 ERA for Triple-A Louisville this season, and he pitched 4 1/3 scoreless innings during his brief time in the majors. While he doesn't impress scouts with his 88-92 mph fastball, he has a deceptive delivery and excellent command. He could prove pretty useful in the middle innings, and the Mariners will almost certainly give him an opportunity soon.