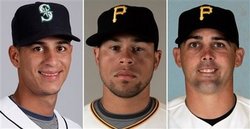 OK, I'm still trying to wrap my head around this one. What better way to do that than by writing about it.
Mariners acquire RHP Ian Snell, SS Jack Wilson and cash from the Pirates for C-1B Jeff Clement, INF Ronny Cedeno, RHP Brett Lorin, RHP Aaron Pribanic and RHP Nathan Adcock.
Snell was a bust for the Pirates this year after already seeing his stock decline in 2008, but since he requested and received a demotion to Triple-A, he's posted an 0.96 ERA and a 47/13 K/BB ratio in 37 1/3 innings. There's never any way of knowing where his head is at, but he's still a nice gamble as a 27-year-old with two above average pitches and a reasonable contract. He'll make $4.25 million next year and there are club options on his deal worth $6.75 million in 2011 and $9.25 million in 2012. It's those options that make him an especially intriguing pickup. If he struggles, the Mariners are only going to be out about $5 million.
Wilson is a perfectly reliable shortstop who remains well above average defensively at age 31. He's sort of an odd pickup for a Mariners team that still may trade Jarrod Washburn, given that his option for 2010 is quite unattractive. The Mariners can keep him for $8.4 million then or buy him out for $600,000. Since they don't have any youngsters ready to take over, they're best bet would likely be to sign him to a two-year deal. If he's content in Seattle, he could settle for about $6 million per season. He'll probably be a type-B free agent, so the Mariners could get a draft pick if he leaves.
Clement is the prize of the deal for the Pirates, even if he's a month away from his 26th birthday and still hasn't hit in the majors. He was batting .288/.366/.505 for Triple-A Tacoma this season. The Mariners didn't think he'd make it as a catcher, and they were probably right about that. It certainly hadn't helped matters that knee woes had prevented him from getting behind the plate this year. Clement, though, could be a perfectly solid regular at first base, at least against right-handers. A straight platoon of him and Steve Pearce could give the Pirates nice production for under $1 million next year. Clement will head to Triple-A for now, but he should be up next month unless Pearce really takes off.
Cedeno's presence in the deal is a matter of convenience for both teams. With Wilson gone, the Pirates would have had to either live with Ramon Vazquez's limited range at short or rushed the recently acquired Argenis Diaz to the majors. Now they have a solid defender who can help get them through the rest of the season and then likely be forgotten about. Cedeno was hitting just .167/.213/.290 for the Mariners, so he'll have a long way to bounce back in order to avoid being non-tendered this winter. The Mariners no longer had any need for him with Wilson around.
By kicking in the money to cover the salaries of Snell and Wilson for the rest of the year, the Pirates greatly expanded their take quantity-wise, if not necessarily in terms of quality. The way I see it, they essentially bought the three pitchers they're getting.
I like Lorin as a sleeper. He stands 6-foot-7 and he was 5-4 with a 2.44 ERA and an 87/25 K/BB ratio in 88 2/3 innings for low Single-A Clinton. He doesn't throw nearly as hard as one would expect, but he uses his size to his advantage with his delivery and his changeup has proven quite useful against lefties.
Pribanic, 22, went two rounds before Lorin in last year's draft, going in the third. He was 7-6 with a 3.21 ERA and a 54/26 K/BB ratio in 87 innings for low Clinton. He has a quality fastball and he gets grounders, but he lacks a strikeout pitch.
Adcock, a 2006 fifth-round pick, was 5-7 with a 5.29 ERA and a 71/54 K/BB in 102 IP at Single-A High Desert, an extremely difficult place to pitch. He's not going to make it as a starter, but his fastball-curveball combination might give him some hope once the move to the bullpen comes.
OK, head now wrapped.
I really like what the Pirates did here. Snell wanted out and was going to be of no further use to them, and they weren't planning on picking up Wilson's option for 2010. I'm not sure Clement fits into their long-term plans with Pedro Alvarez appearing likely to end up at first base, but he's someone who could potentially have a lot more trade value in a year than he does now. Lorin and Pribanic are also potentially useful pieces.
For the Mariners, it could all come down to Snell, and they likely could have gotten Snell cheaper if they hadn't wanted the Pirates to pick up his salary. They didn't give up any future stars and they may well have helped their chances of contending in 2010, so I don't have a big problem with the trade. I also can't really blame Mariners GM Jack Zduriencik for giving up the extra prospects. He's still paying the price for Bill Bavasi's generosity, leaving him with little financial flexibility in his attempts to improve his team.