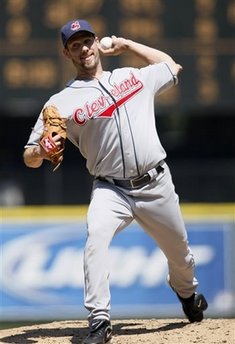 Phillies acquire LHP Cliff Lee and OF Ben Francisco from the Indians for RHP Carlos Carrasco, C Lou Marson, RHP Jason Knapp, INF Jason Donald
Not much figuring out to do here. The only question is whether the Indians got enough in return for the reigning AL Cy Young Award winner.
Lee isn't looked at as being on quite the same level as Roy Halladay, but he has posted a 3.14 ERA this year without a defense as good as Toronto's helping him along. Also, he's far cheaper than Halladay at just over $2 million for the rest of 2009 and $9 million next year. A rotation of Cole Hamels, Lee, Joe Blanton and J.A. Happ would seem to match up pretty well with those of the rest of the NL contenders come playoff time.
Francisco is the right-handed-hitting reserve outfielder the Phillies have been looking for. He'll replace John Mayberry Jr. and serve primarily as a pinch-hitter. While he was miscast as a regular, he should be a very good reserve going forward, and since he'll earn the minimum again next year, he's a fairly valuable property. He was hitting .250/.336/.422 with 13 steals in 308 at-bats for the Indians.
In return, the Indians get four prospects, all of whom I'd rank somewhere between 40th and 80th in an updated top 100 prospects. I'm very surprised that the team didn't hold out for one from the group of Kyle Drabek, Dominic Brown and Michael Taylor, all of whom would have ranked higher, but they did get four intriguing pieces, three of which should contribute next year.
Carrasco, 22, was 6-9 with a 5.18 ERA for Triple-A Lehigh Valley, but his K/BB ratio was still quite strong at 112/38 in 114 2/3 IP. He spent years ranked as the Phillies' top pitching prospect before being passed by a much improved Drabek early on this year. He has a strong fastball-changeup combo with a curve that still needs improvement — he doesn't throw it for strikes very often, yet he also doesn't get hitters to chase it. He hasn't come as quickly as hoped, but he still projects as a No. 3 starter.
Marson and Donald were both 2008 U.S. Olympians. Marson is a very unusual prospect in that he's a catcher known for his on-base ability. There was hope that he'd eventually deliver 10-12 homers per season, but he had just one in 211 at-bats while hitting .294/.382/.370 in Triple-A this season. His defense is sound. He doesn't have the arm to contend for Gold Gloves, but he should have a long career behind the plate. I'm not sure what the Indians will do with him. He could share time with Kelly Shoppach if Victor Martinez follows Lee out the door, but the position should belong to top prospect Carlos Santana as soon as mid-2010. I could see Marson being moved again this winter
Knapp is just 18 and he's fanned 111 in 85 1/3 innings in the Sally League. However, he's experienced shoulder problem of late and hasn't pitched since July 11. The Indians must be convinced that it's just tendinitis. Many projected Knapp as a future reliever when the Phillies made him a second-round pick out of high school last year, but his performance this year has changed that. He really might have ace potential with his mid-90s fastball and hard slider. However, even the best pitching prospects are no better than 50-50 bets and Knapp faces longer odds given that he's already experiencing arm issues and he has subpar command.
Donald has struggled this year. He only returned Tuesday after missing nearly seven weeks following knee surgery, and he's hit just .236/.297/.332 in 208 at-bats in Triple-A. Last year, he batted .307/.391/.497 in Double-A. I see him as a .360-OBP guy with 15-homer ability. However, he lacks the range to last at shortstop and will end up at either second or third. Assuming that they keep Jhonny Peralta at the hot corner, the Indians could have Donald battle Luis Valbuena for the starting job at second next year. Some view him as a future utilityman, but I see him spending several years as a regular.
I think Indians fans are right to be rather disappointed right now. The team had a chance to get right back into contention with Lee and Martinez around in 2010, but this makes another fourth-place finish more likely and there are no probable stars coming back in return. That said, I do like all four pieces here and I'd rather have that group than one from the Drabek-Brown-Taylor tier and only lesser pieces completing the deal.